Meet Dulcetta, Our Dental Therapy Dog
Our Dental Therapy Dog team member Dulcetta loves to assist our patients.
She is here to assist any of our patients who request her gentle way to help alleviate anxiety and uneasiness with their implant procedure.
Dulcetta Helps With Dentophobia
In some cases, the fear of seeing a dentist is so great that some patients avoid needed treatment. Our team at The Good Samaritan Dental Implants Institute make it our goal to help every patient experience the least amount of anxiety and discomfort during their time with us. Dulcetta is part of our team and provides a warm welcome and soft snuggle to any patient who would like to meet her.
Please ask for an introduction because she would be happy to meet you…
Dulcetta Meeting Our Patients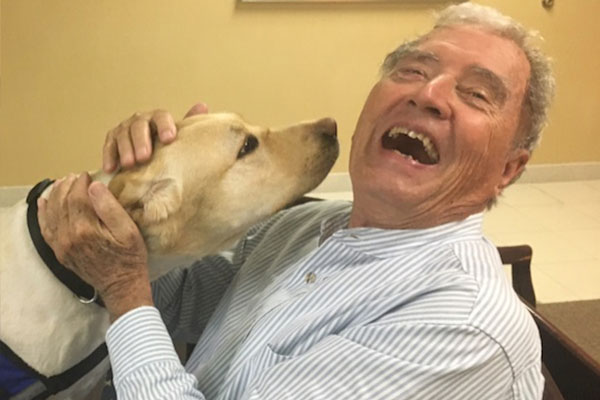 Peter Milgrom, DDS, Director of the Dental Fears Research Clinic at the University of Washington in Seattle says an estimated 5-8% of adults in the U.S. avoid dentists because of fear.
Researchers found that companionship provided by Dental therapy dogs can help reduce blood pressure, lower anxiety levels, and stimulate the release of endorphins which make people feel good in general.
And we want our patients to feel good about their treatment and during their visits with us.